Hi all
Having issues getting a custom sprocket to fit.
This is the layout for the rear sprocket on the Cb250N superdream: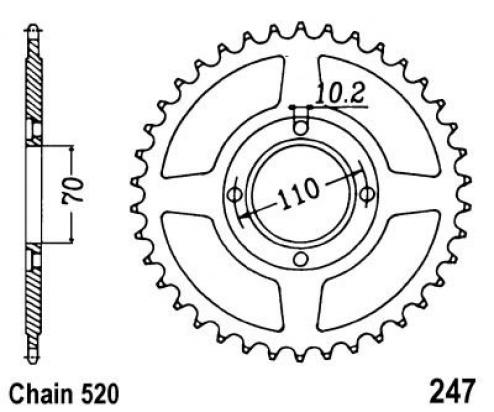 I obtained a hole saw and drilled a 70mm hole in the center of a 08b 76t platewheel, using a pillar drill.
I then placed the old rear pulley on top of the sprocket, centered it, and drilled the mounting bolt holes.
Unfortunately, I ended up with something that doesn't run true on the rear wheel, it shifts forwards and backwards approximately 5mm
So obviously this one is scrap, as it must mean the center hole is not central.
The pilot bore is a quite large 25mm, and the hole saw only has a 6mm drill bit in the center.
In addition to that, it turns out the wheel actually has a center boss diameter of 65mm!
any ideas on how to make the next one a bit better!