I have figured out where the metal swarf in my clutch is coming from.
Here is my clutch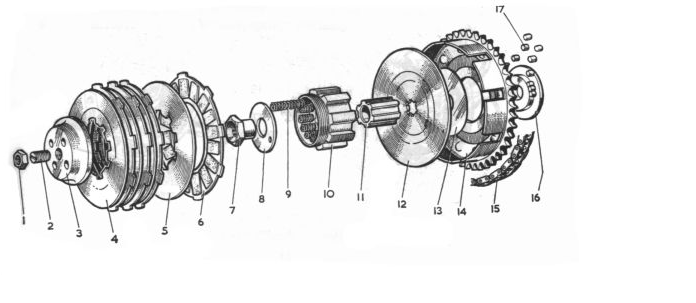 On my clutch the clutch basket whole has been turned out and a sealed bearing in the place of the rollers.
The metal swarf is coming from number 11 wearing a groove in number 12. Turns out that mine is missing the keyed slots in the middle of number 12, causing the backing plate to not run concentrically
I have a new backing plate on the way, but am wondering if this will solve the problem of number 11 wearing a groove in 12.
My instinct says to grind down 11 slightly so that its a bit shorter and doesnt press against the backing plate (12) but the force of the clutch springs will keep doing this. The bearing has added maybe 2 mm of depth, more than the rollers, but I dont think thats the cause.
Any thoughts?